Blaze Media Pro
---


Current Version: 10.0

File Size: 31.2 MB

Product Price: $50 USD

98 SE / ME / 2000 / XP / 2003 / Vista / 7 (32 and 64-bit)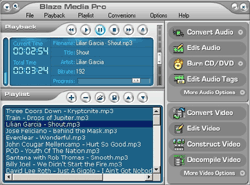 Powerhouse all-in-one multimedia software offering conversion, ripping, editing, recording, burning, playback, and much more. Powerful, yet easy to use audio, video (VCD/SVCD/DVD), and data CD/DVD burning are all fully supported. Other advanced features include video capture, video creation/combining/extraction, video editing, copy music CDs, media management, audio merge, MusicID audio recognition, lyrics search, audio tag editing, FreeDB support, and more. The audio content of video files can be extracted and saved to sound files, and frames can also be extracted to images files in batch mode. Video files can also be created from still frame images and/or other videos.
Supported formats for conversion include: CD, MP3, WAV, WMA, OGG, MPEG-4, AIFF, M4A, AAC, AC3, FLAC, and ALAC for audio, MPEG-1, MPEG-2, AVI, WMV, ASF, Flash (SWF and FLV), iPod, PSP, 3GP, and MOV for video; as well as compression for the formats back into the same format. MPEG options are available for VCD, SVCD, and DVD compliant output. DVD shrink functionality is also present. When converting from audio CD, track information can be dynamically downloaded from the FreeDB and used to automatically name saved files. The DVD ripper feature of Blaze Media Pro supports AVI, MPEG-1, MPEG-2, and WMV for output.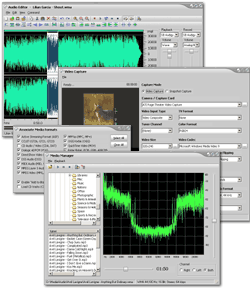 Visual audio editing allows you to open, create, and save audio files in any of the supported formats (can also save any portion of a loaded file to disk as a new file); display audio data waveform (Zoom Full, Zoom In, Zoom Out, Zoom Vertical); play audio files or any portion of the files (Play, Pause, Stop); record audio data from a microphone or any other available input device; edit audio files visually (Cut, Copy, Delete Selection, Crop, Trim, Paste, Paste From File, Mix, Mix From File); apply various effects (Amplify, Compressor, Delay, Equalize, Fade In and Fade Out, Flanger, Invert, Normalize, Phaser, Reverb, Reverse, Shrink, Silence, Stretch, Vibrato); apply different filters to any selected portion of audio files (Band Pass Filter, High Pass Filter, High Shelf Filter, Low Pass Filter, Low Shelf Filter, Notch Filter); insert noise or silence into audio files; Insert information into audio files (Album, Artist, Copyright, Genre, Title, Year); complete, multi-level undo and redo capabilities; advanced, and much more. The following audio formats are supported by the audio editing and playback module: WAV PCM; Compressed WAV (ADPCM, GSM, DSP, A-LAW, U-LAW, ALF2, and more); MP3 (MPEG Layer-3); MP2 (MPEG Layer-2); OGG Vorbis; WMA (Windows Media Audio); AC3, AAC, FLAC, AU (Unix Audio), AIFF (Apple Audio), RAW (PCM, A-LAW, U-LAW); CDA (Audio CD Tracks), and ALAC, WavPack.

Video editing is available for AVI (uncompressed), AVI (compressed using any available codec), MPEG-1, MPEG-2, WMV, and ASF. Comprehensive video editing operations are provided (delete frame, delete selection, crop, resize, rotate, mirror, flip, trim, adjust audio volume, etc.). In addition, an extensive list of over 30 effects and color adjustment operations allow for powerful video enhancement and alternation. WAV, WMA, and MP3 audio files can be inserted into the video or extracted from the video; and BMP, GIF, JPG, PCX, PNG, RAS, PPM, TGA, and TIF are the supported image formats that can be inserted or extracted.
Complete drag and drop capabilities, fully skinnable interface, audio tag editing, FreeDB support, and versatile preferences (for maximum control) are also present!
Visit Blaze Media Pro Website | Download Free Trial | Buy Now | View Online Demonstration